Vanille Hoernchen (German Christmas Cookies)
Prep 25 mins
Cook 12 mins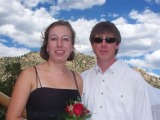 This recipe has been handed down from my great grandmother in Germany. We've had these every Christmas since I can remember and I now make them every year with my kids. They are so delicious.
Directions
Mix all ingredients except powdered sugar together in a medium mixing bowl.
Knead by hand until dough comes together.
Don't over knead it.
Seperate dough into about 30 segments.
Form each segment into a half moon or cresent shape.
Place on ungreased cookie sheet.
Preheat oven to 350 degrees.
Bake 10-12 minutes until they're golden colored.
Roll the cookies in the powdered sugar while they're still hot or dust them with the powdered sugar while still on the cookie sheet.
It is important that you do this while they're still warm or the sugar won't stick.
Put on wire rack to cool.
Reviews
Most Helpful
To me these were good, but not great. I also found that the recipe was hard to follow as the measurements were given in grams and ml and I am used to cups and tablespoons. I kneaded the dough for quite a while but it would not come together. In the end I added a tablespoon of egg substitute. After that the dough came together easily. I cooked them as the recipe indicated, adding the powdered sugar after they came out. They were ok tasting, but the measurement could have been more user-friendly. Thank you for sharing the recipe!
Note about powdered sugar: I just wanted to say these sound a lot like pecan crescents. You can make the sugar stick after they cool off. I bake crescents ahead of time, freeze them without sugar, and thaw them when ready to use. You need a clean new spray bottle. Fill it with water, mist the cookies on a cookie sheet, sift on the powdered sugar with a strainer and a spoon, and let dry. My family is mostly German descent and they rave about pecan crescents. If you try that with this recipe, try a SMALL BATCH first, before the holidays, to make sure it works the same on this recipe.
These have been a Christmas tradition in my family for years. I never knew they were of German origin what a happy surprise! We all love these they are gobbled up fast! Thanks so much for posting this!