Vanilla White Chocolate Panna Cotta With Strawberries
Shuzbud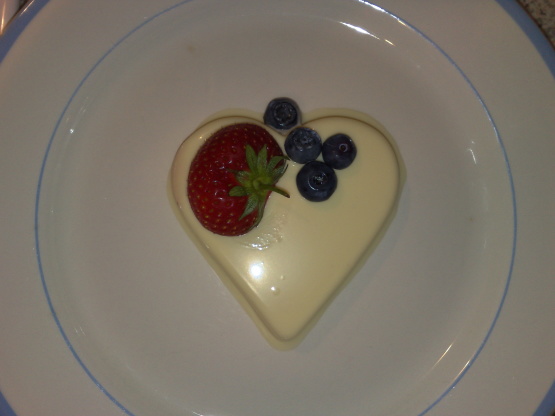 This is a divine dessert, as it is not too rich or heavy, but creamy with a delicate flavour. You can serve it in ramekins or turned out onto plates and topped with fruit or coulis, but I have found that fresh, chopped strawberries go beautifully with it. In the UK, I use double cream, which is 48% butterfat so in the States try to use a heavy cream with a high percentage of butterfat to match the texture. I have included the chilling time in the "cooking time".

Made last night, for a mid lunch today, and this was real good. Made no adjustments to this. Loved the white chocolate to this. Great when the strawberries are at a peak. Made for PRMR.
Put the cream, milk and vanilla pod (whole) into a saucepan.
Heat over a very low heat until almost simmering, stirring constantly.
Put the gelatine sheets in water to soak.
Add the sugar to the warm cream mixture and stir until melted completely.
Remove the vanilla pod then add the chocolate and stir until melted.
Add the gelatine to the mixture and stir.
Remove from heat and make sure the mixture is completely smooth.
Cool, then pour into ramekins.
Leave in the fridge to set for around 4 hours.
If you wish, loosen the panna cotta out of the ramekins by placing them in warm water for a few moments then turning onto a plate.
I find the flavour is best if you remove the panna cotta from the fridge about 10 minutes before needed. Serve with chopped fresh strawberries.