vrvrvr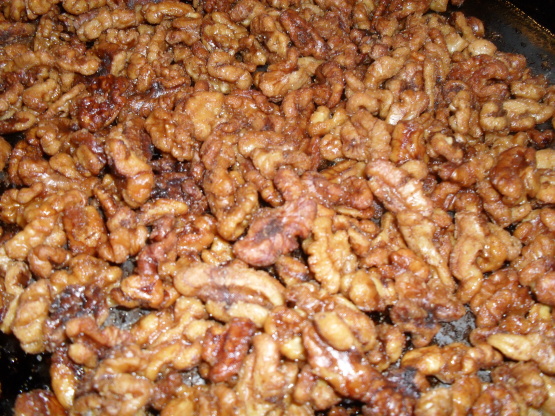 Maybe Mirjam doesn't know it, but she got me hooked on spiced nuts! :) This one is from 'Simply Classic-The Junior League of Seattle'.

The minute I saw these posted I had to try them, especially since I was really jetlagged and had to occupy myself with something constructive at 4 in the morning. I made these with a mix of walnuts, whole almonds and pecans. WOW (caps intended)!!! The mix of spicy and sweet is addictive. I'm going to make a batch just to chop them up and mix into vanilla ice cream, it should be mind-blowing! Ginny, I'm so glad I got you hooked on spiced nuts, just so you could find this one for me! A thousand thanks!
Preheat oven to 325°F.
Bring a large pan of water to a boil.
Blanch walnuts 1 minute.
Drain well.
Transfer to a bowl.
Blend corn oil with vanilla extract.
Pour over hot nuts.
Sprinkle in sugar and toss to mix well.
Let stand 10 minutes.
Arrange nuts on rimmed baking tray.
Bake 30 to 35 minutes until nuts are light brown and crispy.
Stir nuts a few times during baking.
Combine remaining ingredients in a small bowl.
When nuts are done baking, transfer to a large bowl while still hot.
Toss with seasoning mixture.
Return to baking sheet and spread in a single layer to cool.
Serve at room temperature.