Vanilla Vodka Almond Jigglers
Thuha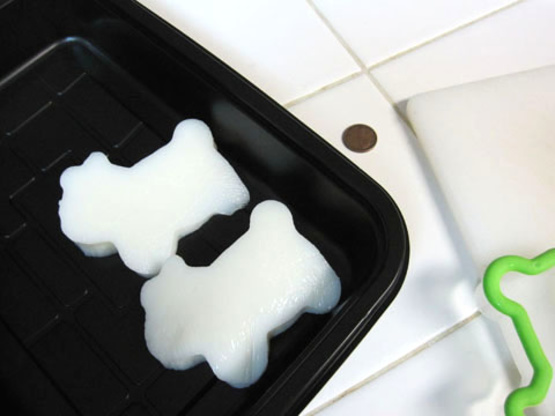 This recipe for vegetarian-friendly, alcoholic almond gelatin jigglers (think Jello Jigglers meets Jello shots) combines vanilla vodka, uses seaweed-derived gelatin called agar-agar (as opposed to nondescript gelatin, which is likely to be animal-derived), and reduces paper/plastic waste (no cups). The ratio of water to alcohol is 1:1, so these jigglers are quite alcoholic! For better taste/less alcohol, you might consider reducing the amount of alcohol to 1 1/2 cups and increasing either the amount of water or milk to 2 1/2 cups (I would increase the milk, for more body and color). Of course, it's all a matter of personal taste and preference. The agar-agar powder can be found at your local South East Asian market.
Prepare gelatin molds: use shallow pan(s) or container(s) (non-stick metal, glass, aluminum, or plastic) or ready-made gelatin mold(s), applying it with non-stick cooking spray (recommended) or covering with it saran wrap (one whole piece covering bottom and edges of pan) for easy removal.
In saucepan over medium to high heat, bring to boil water, sugar, and agar-agar powder, stirring constantly.
Remove from heat, then add vanilla vodka, milk, and almond extract.
Immediately pour mixture slowly into container(s). Refrigerate until set (about 2 hours).
Finally, remove firm gelatin from refrigerator and container(s) and place onto clean, flat surface. Use cookie cutters to make jigglers or use knife to simply cut into cubes.