Vanilla Streusel Coffee Cake
vrvrvr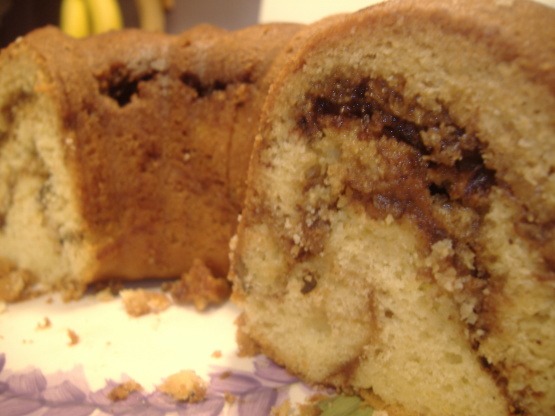 From the Gray Whale Inn, Ft. Bragg, CA circa late 1980's. This is an extravagant coffee cake. Best for a crowd!
Preheat oven to 325. Butter a Bundt pan.
In medium bowl whisk together flour, baking powder, baking soda and salt. Set aside.
Combine butter and sugar in large mixing bowl and beat until fluffy.
Add eggs, one at a time, beating after each.
Blend in sour cream and vanilla.
Gradually add dry ingredients and beat well.
In separate medium bowl, combine brown sugar, nuts and cinnamon.
Turn 1/3 of cake batter into buttered pan. (Blob it in and spread around evenly with a spatula.).
Sprinkle with 1/2 of the nut mixture.
Repeat. (1/3 batter, remaining 1/2 nut mix.).
Add remaining 1/3 batter to pan and smooth to cover.
Mix 2 T. vanilla and 2 T. warm water in small bowl and spoon over top of batter.
Bake 60 to 70 minutes.
Cool completely before removing from pan.
Texture will be moist.