Jubes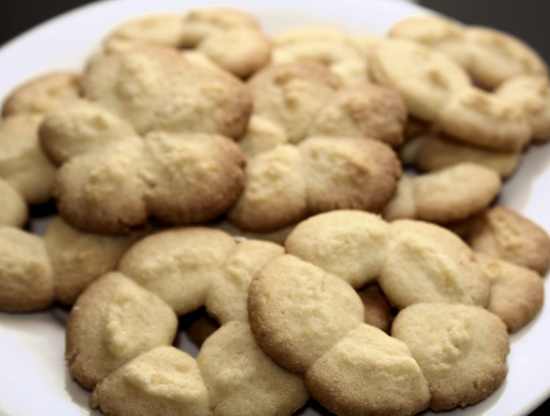 Posting the recipe that came with my Cookie Press for safe keeping. I'm planning to adapt this recipe to be gluten-free suitable. This recipe is using metric measurements (1 cup = 250 mls). Recipe makes about 4 dozen spritz/pressed cookies. A buttery and rich cookie dough that was really easy to work with
Preheat oven to 190°C.
Beat butter and sugar until light and fluffy.
Add egg, vanilla and salt, mix well.
Gently mix in the sifted flour using a spoon.
Pack dough into the cookie press, as per instructions for using your cookie press.
Press cookies onto trays, spacing about 2cm apart (one inch).
Bake 10 - 12 minutes, or until lightly golden.
Gentley transfer to a wire rack to cool.
Decorate as desired, or eat plain.
Store cookies in an airtight container. Cookies can be frozen to preserve freshness.
Makes about 4 dozen cookies.