Chef*Lee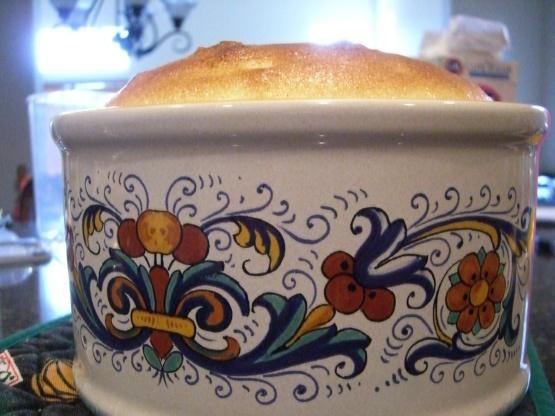 sweet souffles are usually made with a smooth light sauce rather than a butter roux base..smooth base souffles have a creamy texture.

Very delicious souffle!!! This is the most involved souffle I have ever done but worth it. Next time I will not use a double collar. I tried it this time (I don't usually use one), and I feel I made it too high and the souffle will not rise very high if there is too much space between the batter and the top of the souffle dish. I had fun making this and I topped with a creme anglaise, recipe#212774, that made it even more delicious! Thanks for posting!!!
To prepare dish for a sweet souffle always rub the inside of dish generously with butter, then sprinkle with sugar, tapping out the excess. If any souffle is been baked in the oven as this one -- put a double collar around the outside of the dish about two inches higher than top, and secure on the outside with a string.
Preheat oven to 425 degrees. F.
Scald one cup of the milk, if using a vanilla bean put it into the milk cover and leave to infuse 15 minutes.
Reheat the milk to a boil, remove the bean and add the sugar.
If using extract then just add extract to scalded milk.
Blend the remaining cold milk with the flour and arrowroot to make a smooth paste.
Stir into the hot milk and bring to a boil and stir constantly. Boil for 2 or 3 seconds, and then remove from heat, dot with the butter, cover and let stand for 6 minutes to slightly meld and cool.
Now stir to mix in the butter and add more vanilla if desired to taste.
Beat in the egg yolks one at a time.
Beat the egg whites until they hold a stiff peaks, using a metal spoon fold in some of the whites about one quarter into the yolk custard mixture to lighten the weight of the custard. Then now add remaining whites mixture and fold together as lighlty as possible.
Transfer the mixture to the prepared souffle dish and bake at once in the preheated oven for 18 to 20 minutes -- until its puffed and golden brown.
Remove the paper collar, sprinkle with powdered sugar, and serve at once.