gskids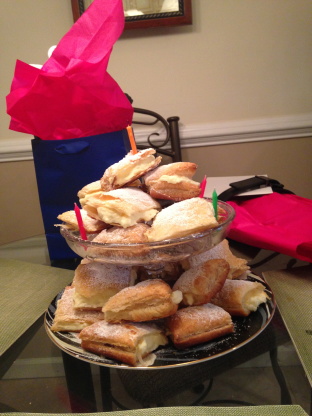 This Serbian recipe caught my eye both for the ingredients, which are readily accessible in my kitchen, & the clever cutting of the top pastry to delineate servings neatly. Medena's picture of the slice at her wonderful site certainly caught my eye as well! www.cafechocolada.blogspot.com Thank you Medena!

Top Review by gskids
I posted the photo. My husband is half Serbian and half Romanian and this is his all time favorite dessert. This recipe is spot on and it taste exactly the way his grandmother use to make it. The photo I posted was his Krempita birthday cake! Thanks for sharing this recipe!
2

sheets puff pastry
6 1⁄3 cups milk
5 1⁄4 ounces cornstarch

1

ounce vanilla sugar

8

egg yolks

7

ounces sugar

8

ounces whipping cream (whipped with stabilizer)
Pastry:.
Let the puff pastry sheets thaw, the roll them out on a lightly floured surface, and bake according to directions on a jelly roll pan.
Let them cool, and then cut out the shape according to the size of the square pan - 9 inch x 13 inch.
Once you cut them to the shape of the pan, cut one sheet into squares (I made 12); that will be the top of the cake.
Cream:
Mix egg yolks with sugar, until frothy. Add a cup of milk (out of the 6 1/3 cups), and corn starch, and mix well. Set the reminder of milk with vanilla sugar added, to boil, and when it comes to a boil, slowly mix in the yolk mixture, and stir constantly for a minute. Transfer to a large mixing bowl, and let cool completely. When cooled, add the whipped whipping cream, whipped with a stabilizer.
Put the whole sheet on the bottom of the pan, and spread the filling over it. Arrange the cut out sheet on top.
Refrigerate for few hours.
Dust with powdered sugar before serving.