This is the syrup Giada uses to make her Berry Lemonade. It can be used to make many different drinks and is so easy to make. Enjoy!
Directions
In a small saucepan, over medium heat combine the sugar, water, vanilla bean seeds, and vanilla pod.
Bring to a boil, then reduce the heat to a simmer. Cook, stirring occasionally, until the sugar has dissolved, about 5 minutes.
Remove the pan from the heat and allow the syrup to cool, about 20 minutes.
Strain before using.
Yield: 1 cup.
Reviews
Most Helpful
Great twist on simple syrup, I tripled the recipe and it made a wonderful medium syrup for the whole clove peaches I canned. Thanks for sharing the recipe!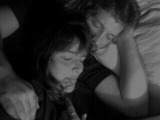 Delicate vanilla flavor, I got 5/8 cup of product after straining through a coffee filter over a fine mesh colander. I paid dearly for my vanilla beans at Wegman's. I noticed that Amazon.com has much better pricing. This uses less sugar than Martha Stewart's version using 1 1/2 teaspoons vanilla extract, 1 cup sugar and 1 cup water, but I would be more likely to make that for economy. However, if making one of Giada's recipes calling for Vanilla Simple Syrup, I would remember that her syrup is lighter and more subtle. Made for Newest Zaar Tag game.