Vanilla Raisin Bread (ABM)
Annacia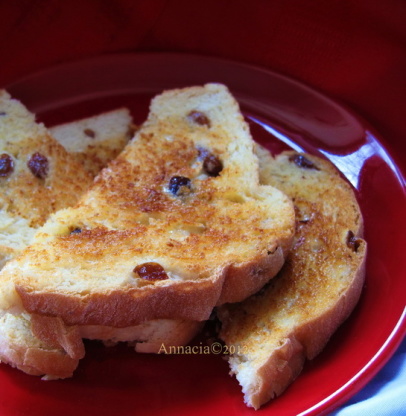 This recipe came from the internet, and it is our favorite raisin bread. We especially love it as raisin toast for breakfast.

This would have been a 5 star review except for one thing, the directions are less that clear. If someone not very familiar with bread makers wanted to use this recipe it could be very problematic. I used the dough cycle and baked in the oven simply because I dislike the paddle holes in the bread. That said I would use the basic bread setting because this isn't really a sweet bread. I used Splenda for the sugar and the 2 Tbsp gave a very well flavored bread but it not all that sweet. If you want to really taste sweetness add another 1-2 Tbsp of sugar (and then use the sweet setting). As to the remaining vanilla: I used the micro method before starting everything else and just left it snugly covered until wanted. Add the raisins at the "Additions" beep and remaining vanilla along with them, I had only about 1/2 a tsp at the most left in the bowl unabsorbed. Even with the 1 1/2 tsp of yeast I got a huge loaf, so big that I had to stuff the top part of the slices into the toaster which didn't make for beautiful toast,lol. So, with all of that said, this makes a great big loaf of delicious bread. It has excellent texture, is soft but slices very well indeed and keeps everyone wanting to come back for one more slice.
Select basic or SWEET setting.
Special Notes: The recipe calls for 2 tsp of yeast, but I find this way too much yeast- blows the top off the machine!
This makes a 1 1/2 lb loaf which basically fills my 2 lb machine.
DO use pure vanilla extract for best results.
If you don't have the time to soak the raisins ahead of time (I never do) just microwave the raisins and vanilla for 1 minute on high or med-high in a micro-safe bowl.