Vanilla-Poached Pineapple Sauce
ImPat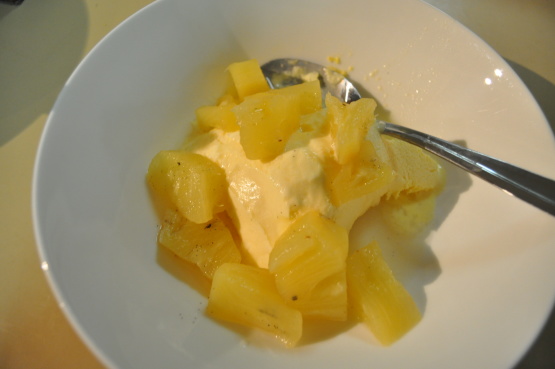 This uses fresh pineapple. Use the sauce for topping low-fat pound cake or angel food cake, or ice cream. From Cooking Light. Cook time does not include chilling time. As suggested by Wicked cook, adjust the amount of water according to how much syrup you want. As per I'm Pat's suggestion, use the de-seeded vanilla bean to make vanilla sugar. See her review for instructions.

Although I did follow the list of ingredients, I took a detour when it came to preparing the pineapple! With a very sharp knife, I diced it quite small! Then, when the pineapple was cooked, I put half of the mixture in a bowl & took a hand-held potato masher to it so that the sauce ended up being a thicker, pineapple mush with some small chunks throughout! Our initial serving was over a slice of banana bread AND a scoop of frozen vanilla yogurt! Absolutely wonderful! Thanks for sharing this great keeper of a recipe! [Tagged & made in Please Review My Recipe]
Cut pineapple into quarters lengthwise; cut each quarter crosswise into 1/2-inch slices, and set aside.
Scrap seeds from vanilla bean into a skillet; discard bean (or make vanilla sugar).
Add water, sugar, and ginger root to skillet; stir. Bring to a simmer over medium heat, stirring occasionally.
Add pineapple slices; cook 8 minutes or until tender, stirring occasionally.
Pour into a bowl; cover and chill.