CarolAT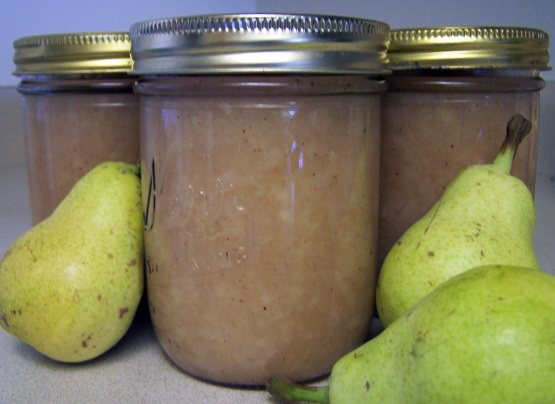 Delightful change from Applesauce. Very juicy with a nice chunky consistency. Not overly sweet. This is my own creation. Of course you don't have to can this recipe, just stop at #9. It is a simple recipe and easy enough to cut down the amount also.

Top Review by Nana K
Great recipe. I did change some seasoning. I only used a 1/4 tsp. cloves and a couple of handfuls of red hots (candies) for the cinnamon flavoring and coloring. I did not use any vanilla or nutmeg. After cooking it all for about 25 minutes, I put it in the blender to make it nice and smooth. Turned out so good and really looks pretty in the jars. Thanks for the recipe. My DH thought it was really good, too.
Use a large 6 qt pot.
Cut pears in half, core, peel and cut pears into large chunks.
The pear chunks should fill the pot to 5 quart level at least.
Add water and sugar, (Add 1/2 cup or more sugar if you prefer sweeter flavor).
Bring to boiling point then reduce to low boil.
Stir in vanilla, lemon juice, nutmeg and ground cloves.
Give it the old taste test, adjust sugar and spice if needed.
Cover and cook 10-15 minutes or until pears are very soft and easily mashed to your desirable consistency using a potato masher.
Do not drain off liquid after cooking unless it is a way to watery, keep it juicy now.
Quickly fill sterilized hot (180 degrees) jars to 1/8 inch of rim.
Wipe clean jar rims and threads.
Cover with hot lids (180 degrees) and bands tightened finger tight only.
Process in boiling water 12 minutes.
Note: Make sure the water covers the jars 1 to 2 inches.
Suggestion: While preparing the pears to prevent them from darkening during preparation drop them into a large pot of water with 2 tbs salt, 2 tbs vinegar added to each gallon of water used.
Enjoy!