Vanilla Ice Cream Swirled With Fresh Berry Puree
Diana 2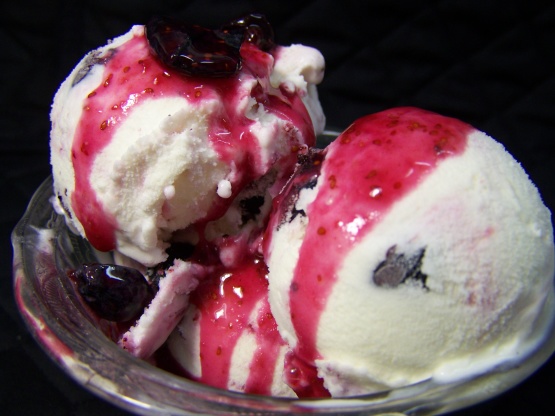 Simple and oh-so-delicious. Created by Bobby Flay.

Needed to use up fresh blackberries from the garden so decided to use this, I started with a recipe on here for home made vanilla custard ice cream then followed your directions for preparing and mixing the berries. Wonderful, even had some of the berries left over and was so good hubby added them to his morning cereal. Topped the ice cream with hot fudge and whipped cream and WOW, over the top good
Combine the blackberries, sugar and lemon juice in a nonreactive bowl.
Let the berries macerate, covered, at room temperature until the juices have run, about 1 hour.
Gently mash berries with a spoon.
Place the softened ice cream in a large bowl and fold in the berry mixture.
*If you prefer, you could just drizzle the sauce on top of individual servings of ice cream*.