Vanilla Ice Cream Grape Soda
This is a creamy fizzy soda that adults and kids will both love!
Directions
Place the vanilla ice cream in a tall glass.
Fill the glasses up with the grape soda.
Stir if needed.
Reviews
Most Helpful
We had these every summer growing up. We called them "Grape Apes". Thanks for posting and bringing back great memories!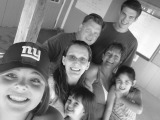 I grew up on these! LOVE them! There is something about this combination that just makes my mouth water. The color is beautiful as well. I prefer Welchs grape soda for this. I think I now need to go to the store and buy some!
"For Aus/NZ Swap #16" The DGK's stopped by for lunch, and had this for dessert. I grew up with Brown Cows -- root beer and ice cream. Guess they had Purple Cows ! They thought it was a cool drink and will fix for their friends at holiday picnic. Was a tad too sweet for me. Thanks, Red Chef Mama, an idea without limits !