Vanilla-Fudge Marble Cake
Harmoni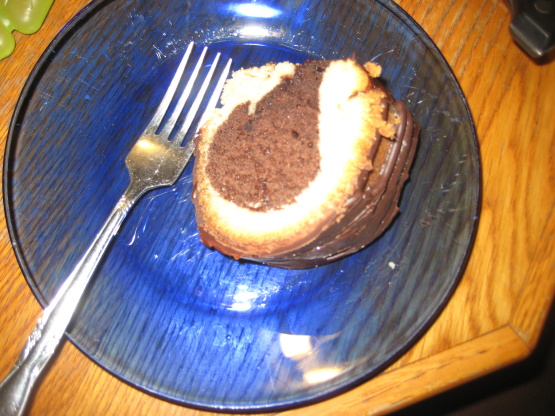 From the new "Better Homes and Gardens New Cook Book". Look for the Semisweet Chocolate Icing Semisweet Chocolate Icing that goes with this.

Top Review by Ri3603
This is a great cake and I made it for many of years now. It is my families favorite cake.
Allow butter and eggs to stand at room temperature for 30 minutes.
Meanwhile, grease and lightly flour a 10-inch fluted tube pan.
In a medium bowl stir together flour, baking powder, baking soda, and salt.
Set aside.
In a large mixing bowl beat butter with an electric mixer on low to medium speed about 30 seconds.
Add sugar and vanilla; beat until fluffy.
Add eggs one at a time. Add milk and flour mixture alternately. Beat on high for 2 minutes.
Reserve 2 cups batter.
Pour remaining batter into prepared pan.
In a mixing bowl combine chocolate syrup and reserved 2 cups batter.
Mix well.
Pour chocolate batter over vanilla batter in pan.
Do not mix.
Bake in a 350° oven about 50 minutes or until wooden toothpick inserted near center comes out clean.
Cool 15 minutes on wire rack.
Remove from pan: cool completely on wire rack.
Drizzle cake with Semisweet Chocolate Icing recipe #45105.