Vanilla Flan With Raspberries
Bev I Am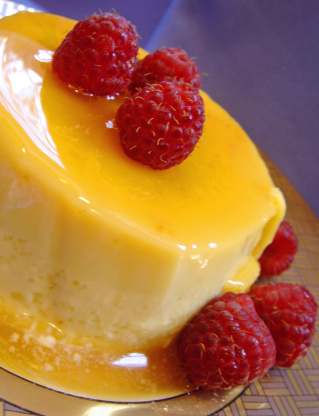 I thought this sounded like a great dessert/fruit can easily to switched to different berries or even frozen berries. Prep time does not include overnight refrigeration. Recipe source: Bon Appetit (July 1991)

I made this using fresh blueberries, and it was incredibly delicious! It was the end to a wonderful Mexican dinner for us! This recipe is so easy to prepare and the results are well worth the time it takes to prepare and make it. So creamy and delicious, and the fruit just puts it over the edge. Definately 5+stars for this one. If you like custards, puddings, flan or creme brulee, this is the recipe to try right here! Thank you for sharing Ellie!
Preheat oven to 325°F.
In a saucepan over low heat combine 2 cups sugar and 1/2 cup water, stirring until sugar dissolves. Increase heat to high and boil without stirring until sugar caramelizes, swirling pan occasionally. Immediately pour into 2 (9-inch) pie dishes. Turn dishes, so bottom and sides are coated. Set aside.
In a large bowl whisk together eggs, egg yolks and vanilla.
Stir in whipping cream, milk and 1 1/2 cups sugar.
Divide mixture among pie dishes.
Place pie pans in a heavy baking pan, adding enough hot water to come up halfway up sides of pie dishes.
Bake for 50-60 minutes or until knife inserted in center comes clean. Remove custards from water and cool. Refrigerate overnight (*can be prepared up to 2 days ahead.).
Invert custards on platters; sprinkle with raspberries to serve.