Vanilla Cupcakes W/ Yummy Penuche Glaze
vrvrvr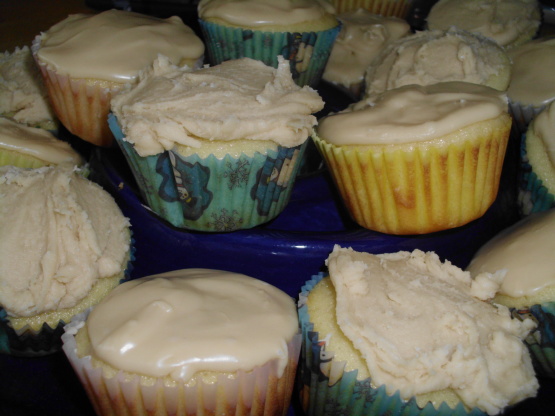 So amazingly yummy! The simple vanilla cupcakes go so well with the Penuche glaze which tastes like caramel!

Top Review by vrvrvr
Oh these are so good! I reduced the vanilla to 1/2 tablespoon. For the frosting, I used an extra tablespoon of butter. I think it's kind of cool how the frosting turned out two ways - glossy and matte. I was trying to spread it quickly on the cupcakes but it was getting too hard, so I mixed in a little cream and it turned very shiny. Both versions taste heavenly and these cupcakes are a hit! The cake is flavorful and they domed nicely. I got 22 cupcakes. Great recipe!
Preheat oven 350°F Line muffin pans with cupcake liner.
Sift flour, baking powder, and salt. Set a side.
Cream 1/2 cup butter and sugar. Add eggs and vanilla, mix well. Add flour mixture and milk slowly. Mix well.
Pour in lined muffin pans 2/3 full.
Bake for 18-22 minutes or do toothpick test to see if done.
Allow to cool completely before applying glaze to cupcakes. You can dip tops of cupcakes in the glaze or simply pour glaze on top of cupcakes with spoon.
Penuche Glaze: In a sauce pan, melt 3 tbsp butter and brown sugar on medium heat. Allow to boil and mix continuously with a spoon for 1 minute. Take out of heat. Add 1/4 cup milk and begin to beat w/ mixer. Add powdered sugar till you get the consistency you want. Work quickly with glaze once you have made it. It thickens up quickly. Keeping it on very low heat works well so it does not harden on you.