Vanilla Cream With Coconut and Lime
awalde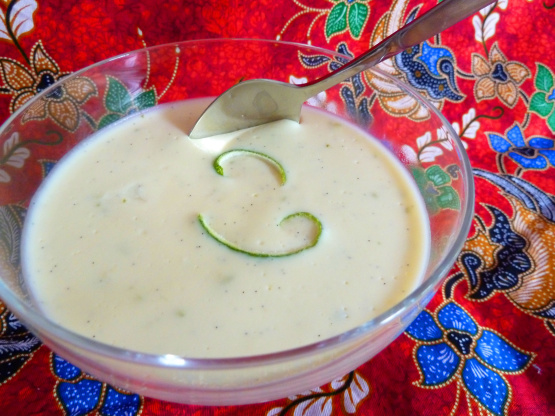 Tahitian vanilla beans are known for their aromatic, fruity, cherry, anisic-like flavor profile. Tahitian Pure Vanilla is especially symbiotic with fruit-based products such as fruited yogurt and sorbet. This cream has 4 exotic components: vanilla, coconut, lime…and rum! Adapted and posted for ZWT7.
Good but not perfect. It didn't set up properly. ?? It got a little grainy from being heated too much after combining yolks & milk (my fault). The flavor was really good but I think 3 flavors was a bit too much. We all happily ate it, though! Made for Aussie Swap 6/13.
Boil milk with the opened vanilla bean.
During this time stir egg yolks, sugar and cornstarch together in a pan until incorporated (don't cook yet).
Add hot milk (vanilla bean removed) , lime zest and coconut milk to the egg mixture and stir continuously by medium heat until thick and creamy.
Add rum and stir well.
Fill this delicious cream in serving cups and decorate with lime zest strips.
Cool at least 2 hours and serve chilled.
Note: for a special touch add 1 teaspoon rum over chilled cream!