Pamela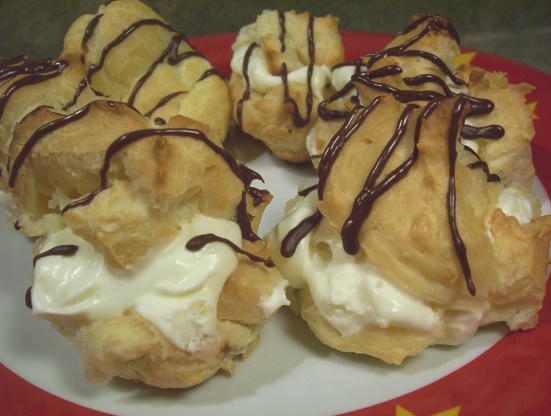 I found this recipe in the 2003 Taste of Home Annual Recipe Book. They are easy to make even for a novice like myself.

These were awesome. I made 3 dozen mini cream puffs and used cool whip instead of whipped cream. I've been making cream puffs for a number of years and would use either pudding or cool whip for the filling. I never thought of mixing the two together and with the addition of almond extract, they were incredible. I take cream puffs to the family reunion every year so need to freeze them in advance. These froze and thawed out beautifully. Thanks so much for the great recipe.
In saucepan, bring water, butter and salt to a boil.
Add flour all at once and stir until it forms a ball.
Remove from from heat, let stand 5 minutes.
Add eggs, one at a time, beating well after each addition.
Continue beating until mixture is smooth and shiny.
Drop by 1/4 cups at least 3 inches apart onto a greased baking sheet.
Bake at 400 degrees for 30-35 minutes (or until golden brown).
Remove to a wire rack.
Immediately split puffs open; remove tops and set aside.
Remove and discard soft dough inside puff.
Let cool.
In a bowl, beat the milk, pudding mix and extract on low speed for 2 minutes.
Let stand for 5 minutes.
Fold in the whipped cream.
Fill the cream puffs and replace tops.
In a heavy saucepan, combine glaze ingredients.
Cook and stir over low heat until chocolate melts and mixture is smooth.
Drizzle over cream puffs.
Chill for at least one hour before serving.
Refrigerate any leftovers.