Pamela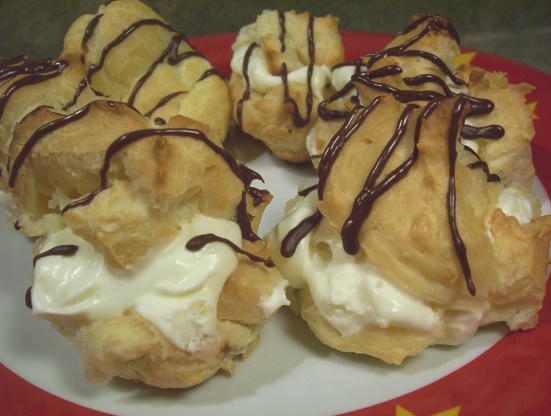 I found this recipe in the 2003 Taste of Home Annual Recipe Book. They are easy to make even for a novice like myself.

HOLY CREAM PUFFS!~~~ These are THE BEST cream puffs we have ever had---and my husband is Italian! A few things....the recipe calls for 1 5._ oz box of van pudding....Realized this after I added 1 3._ box (standard size)....had already folded in the whipped cream, but added it anyway...so two boxes of standard size pudding mix. Also, didnt do the chocolate on top, just plain and were great!...I used parchment paper.....Also, I didn't have to scoop anything out when done and they were perfect. I used a melon ball scoop and got about 20 with a lot of filling left over, so will be making another dough batch tonight. I used a pastry bag to fill and made it really easy.... This is 10 stars!!!!!!!!!!
In saucepan, bring water, butter and salt to a boil.
Add flour all at once and stir until it forms a ball.
Remove from from heat, let stand 5 minutes.
Add eggs, one at a time, beating well after each addition.
Continue beating until mixture is smooth and shiny.
Drop by 1/4 cups at least 3 inches apart onto a greased baking sheet.
Bake at 400 degrees for 30-35 minutes (or until golden brown).
Remove to a wire rack.
Immediately split puffs open; remove tops and set aside.
Remove and discard soft dough inside puff.
Let cool.
In a bowl, beat the milk, pudding mix and extract on low speed for 2 minutes.
Let stand for 5 minutes.
Fold in the whipped cream.
Fill the cream puffs and replace tops.
In a heavy saucepan, combine glaze ingredients.
Cook and stir over low heat until chocolate melts and mixture is smooth.
Drizzle over cream puffs.
Chill for at least one hour before serving.
Refrigerate any leftovers.