Elmotoo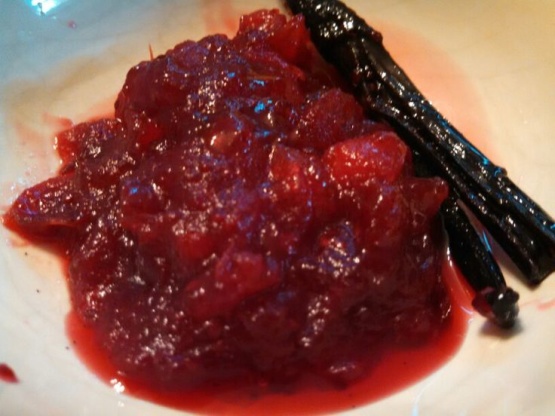 Now THIS is worth writing home about, so here I am! I wanted to do something different with my cranberry sauce this year. Enough of the citrus, no shallots for making compote...vanilla! I have a few dried out beans that I've been hoarding! Now that we have a supply of fresh beans, time to use the old - why not drop one in the cranberry sauce? How bad could it be? OMG.....it was divine!!! Vanilla sugar adds extra vanilla flavr but you can certainly use regular sugar.
Put all ingredients in a medium saucepan & bring to a boil.
Simmer about 10 minutes, stirring occasionally. Pull out the vanilla bean, slice open & scrape the seeds into the sauce. Add the bean back to the sauce & continue simmering & stirring occasionally until cranberries have popped.
Cool & serve or refrigerate. Remove bean just before serving.