Karen..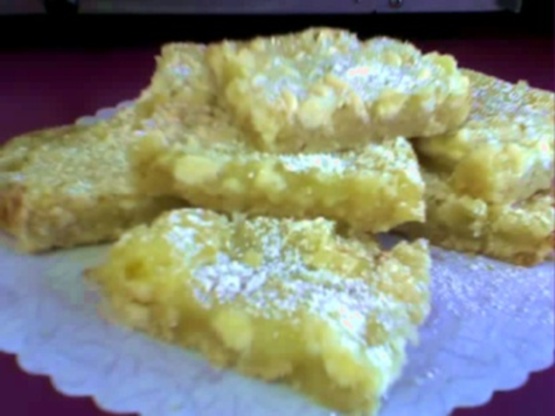 These are wonderful! The vanilla chips add a nice touch! The recipe comes from the Hershey's Homemade cookbook.

This recipe makes a very good *mild* lemon bar. I have to say that when I tried them the first day, I thought they were just "ok". The next day I had one and they were much better, everything came together and the chips were solid again. I would suggest making these a day in advance to let the flavors develop. The only problem I had with these was that they stuck horribly to the pans (I made two batches). I will grease the pan next time, especially around the corners! Note: They came out of the glass pan better than the non-stick! Thanks for sharing this recipe :)
Heat oven to 350 degrees.
In medium bowl, stir together 1 cup flour & 1/4 cup granulated sugar; with pastry blender, cut in margarine until mixture resembles coarse crumbs.
Press mixture onto bottom of 9" square baking pan.
Bake 15 minutes or until lightly browned.
Remove from oven & let cool.
In medium bowl, stir together egg substitute, lemon juice, lemon peel, remaining 3/4 cup sugar.
Sprinkle vanilla chips over the cooled crust.
Careful pour lemon mixture over the chips & crust.
Bake 15 minutes or until set.
Cool slightly in pan on wire rack; sprinkle with powdered sugar.
Cool completely before cutting into bars.