Annacia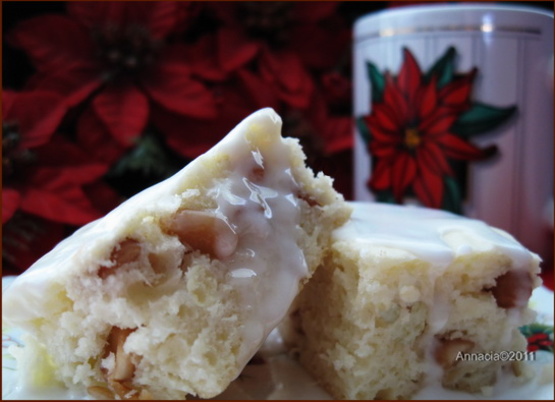 A cashew lovers dream. I made a half recipe and baked that in a standard bread loaf pan for 18 mins. That gave me 12 nice sized bars of about 3/4 inch tall. I also want to say that I got cake bars, lol. Dreamy soft cake bars, your result might be different but I thought that you should how mine came out. It's delicious too!

Made these according to the recipe, but with one slight change ~ Instead of the amaretto liqueur, I used almost 3/4 teaspoon of almond extract, while apple juice made up the rest of the 3-tablespoon amount! Worked like a charm, & these nutty bars were a delight! A keeper of a recipe, definitely! [Tagged & made in Please Review My Recipe]
Preheat oven to 350 °F.
In large bowl, beat sugar, butter and sour cream with electric mixer, until smooth.
Stir in eggs, one at a time, and vanilla.
Gradually beat in flour and baking powder with electric mixer on low speed. Add cashews and mix well.
Pour into buttered 13- x 9-inch cake pan.
Bake for about 25 minutes or until toothpick inserted in centre comes out clean.
Remove from oven and set aside.
Spread cake with Amaretto Icing.
Cut into squares.
Serve warm or cold.
AMARRETTO ICING:.
In bowl, combine icing sugar, cream and Amaretto, mixing with fork.
Add a little more liquid if needed, until preferred consistency.
Mix well until smooth and creamy.
Reserve.