Vanilla Cake With Strawberry Cream Frosting
DKitc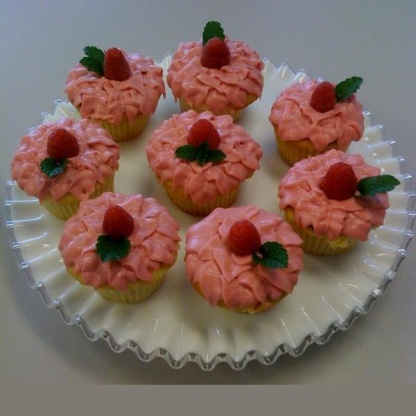 This is a wonderful vanilla cake with a sweet cream cheese and strawberry frosting. from Bon Appetite Magazine. I This is an AWESOME cake! You can choose to use 2 /9 inch pans or 3/9 inch pans. Even if you use 3 cakes, make sure you split them, I make that suggestion due to the horrible review that was recently left. I am trying to dummy proof this recipe, if you know what you are doing then go for it. This cake really is worth the time it takes to make it. The frosting is delicate and so, so delicious! The cake is moist and dense with a rich vanilla, butter flavor. I have gotten nothing but rave reviews on this cake. Also, this is a huge cake! It will probably serve more than 12-16. I found that 6 cups of strawberries was a bit too much for me but it depends on how many strawberries you like. After reading the very bad review left recently, I must insist that if you are looking for a lowfat cake please DO NOT make and review my cake. The nutrition info is CLEARLY posted. I guess some folks still take out their frustration on line, clearly.

My daughter begged for a strawberry cake for her birthday and this fit the bill! We loved it! She loved it! A great tasting cake. My only issue was my frosting didn't thicken very much. Still tasted delicious, but could've looked better. And might just want to add to your recipe when to add the salt and vanilla. Thanks for the great cake. I am not an seasoned cake baker, but this was a great experience and will make it again. I made it is 2 pans and had no overflow and it layered perfectly.
For the frosting, use the electric mixer to beat cream cheese and butter in large bowl until smooth, stopping to scrape down sides of the bowl. Beat in sugar, then jam. Beat cream in medium bowl until peaks form. Fold whipped cream into frosting. Cover; chill until firm enough to spread, about 2 hours.
Cake:.
Preheat oven to 325°F.
Butter and flour 2 or 3 9-inch cake pans with 2 inch high sides. Sift flour, baking powder, and baking soda into medium bowl. Using electric mixer, beat sugar and butter in large bowl until fluffy. Add eggs one at a time, beating after each addition. Add sour cream, beat 30 seconds. Add flour mixture in three additions, beating just to blend after each addition. Divide the batter between the prepared pans.
Bake until tester comes out clean. About 45- 50 minutes. Cool cakes in pan for 15 minutes and then loosen with knife and turn onto rack to cool completely.
Using a large serrated knife, cut each cake horizontally in half. Place one cake, cut side up, on cake plate. Spread 2 tablespoons strawberry jam over ( I like to warm it slightly in microwave and add some boiling water so I can brush it on the cake), then 3/4 cup frosting, and 3/4 cup sliced berries, arranging in a single layer.
Repeat this 2 more times with each layer of cake.
Spread 2 cups frosting on top of cake and over sides of cake.
Optional, spread remaining jam (room temp) on top and sides of cake (swirl).
Cut cake into wedges and top with remaining strawberries.