Smilyn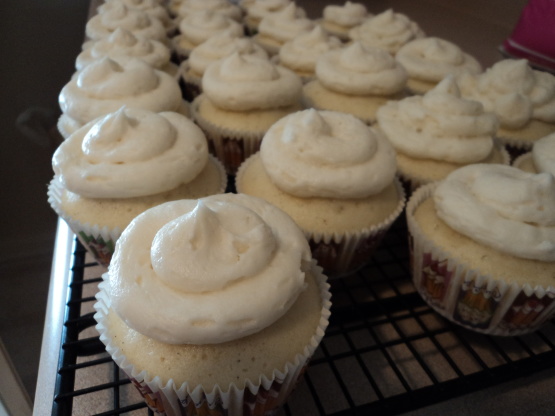 Credited to Sarah Howard- printed on May 12 edition of Creative Loafing. This cake calls for whole eggs along with an equal ratio of egg whites to keep it light and fluffy, and maintain the pure color. The use of the vanilla bean makes a big difference in the fragrance and overall taste of the cake as well, so go ahead and splurge in the spice aisle. After you're done scraping out the tiny seeds, throw the pod into a mason jar with baker's sugar, keep it in the cupboard and use the vanilla-infused sweetness to add an extra dimnsion to your recipes.

This is a really great recipe. You can modify it the more you make it. Couple of notes: the cook time was way more than 12-14 min. It was closer to 19-20 (other cupcake recipes usually run 375F for 20min, I didn't want them to brown so I kept the temp low and cooked longer.) I poured the milk way before I started cooking and scraped the vanilla bean into the milk and left the stalk in the milk (removing before mixing in the batter) to let the flavor infuse while I prepped all the ingredients and started the process. I also added another tsp of vanilla extract so that there was a clear vanilla flavor instead of just a hint. These cooked up beautifully and they're delicious. The aren't as spongy as a box mix but they aren't egg heavy like other recipes.
Preheat oven to 325 degrees. Line muffin tins with baking cups.
In a large mixing bowl, beat sugar and eggs/whites together with an electric mixer until slightly thickened, about 2 minutes. Sift together the flour, baking powder and salt into a medium mixing bowl. Add the flour mixture, milk, oil, and vanilla to the eggs. Split the vanilla bean from end to end and scrape the seeds out with a knife. Add to the mix and incorporate the ingredients together slowly, just until the batter is smooth. Fill each muffin cup 2/3 full.
Bake in preheated oven for 12-14 minutes or until a toothpick inserted into the center comes out clean. Let cool completely before frosting.