TrocNew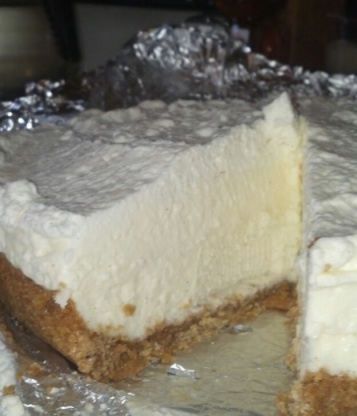 My husband is in love with the vanilla bean cheesecake from TGI Fridays, so I was sent on a search to find a similar recipe. He says this is very good, and nearly the same as their recipe. One warning: He doesn't eat the crust, so I don't know if that is exactly the same as their recipe. This will take a lot of time to make, but is worth it.

This was AMAZING!! I followed the recipe exactly (my first attempt at a cheesecake) and it turned out so yummy. My only suggestion is it needs to be a bit sweeter. Any suggestions???
1 1⁄2 cups finely crushed graham crackers
1 1⁄4 cups sugar, divided
1⁄2 cup butter, melted

1

cup butter, softened

1

egg yolk, beaten
3⁄4 teaspoon vanilla, divided

16

ounces cream cheese, softened

1

cup sour cream

2

tablespoons cornstarch (or 3 T flour)

2

vanilla pod, beans removed, divided

2

cups whipping cream

3

tablespoons powdered sugar

4

ounces one-third less fat reduced-fat cream cheese, softened

4

ounces white chocolate baking squares, melted
Preheat oven to 375 degrees. Line a 9 in springform pan with foil and spray with non-stick spray.
Mix the graham crackers with 1/4 C sugar.
Add the egg yolk, 1/4 t. vanilla, and melted butter, in that order.
Press mixture into the pan, and bake for 8 minutes (or until edges are slightly brown).
Remove and let cool.
Preheat oven to 350 degrees.
Combine cream cheese, sour cream, cornstarch, and 1 C sugar, mixing until sugar dissolves. Add butter, 1/2 t vanilla, and beans from one vanilla pod, blend until smooth. Spread on crust.
Bake 30-35 minutes, cool 1 hour.
In a cold mixing bowl, beat 1 C cream until soft peaks form. Add 2 T powdered sugar, and continue beating. Place in another bowl in fridge. Without washing first bowl, beat the 1/3 less fat cream cheese in it, until fluffy. Add the white chocolate, and beat until smooth. Fold in the whipped cream from fridge; place back in fridge.
In another cold bowl, beat 1 C whipping cream until soft peaks form. Add 1 T powdered sugar, and beans from one vanilla pod beating until stiff peaks form.
Spread mousse evenly on top (cream cheese/white chocolate mixture). Refrigerate for an hour, then spread whipped cream on top. Refrigerate several hours before serving.