Pajene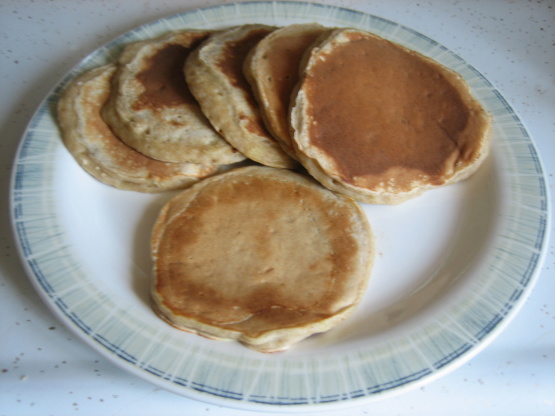 A simply tasty treat to wake up to in the morning. Good even without syrup, though I did try topping them with some extra vanilla yogurt. Yummm...

Delightful pancakes, for sure! Made 'em as given in the recipe & they were great, but then I also topped 'em with a bit of banana pudding, so . . . . ! I'll be keeping the recipe & adding it to some other pancake recipes for even more variety for us! Thanks for sharing it! [Made & reviewed for one of my adoptees in this fall's round of Pick A Chef]
Peel bananas and begin to mash them into a bowl.
Add in sugar and yogurt- Mix together.
Stir in Butter and Baking Powder until well blended.
Beat together the milk and egg, and add to batter.
Add the wheat flour - mix and slowly add in the white flour.
Pour either 1/4 cup OR 1/3 cup of batter onto hot non-stick griddle or lightly buttered skillet- Low-Medium Heat. Cook until tops are bubbly and edges look dry. Turn and cook until lightly browned. (Expect to slowly cook to insure fully cooked centers - I used a lid over my skillet for a little bit in the beginning of the cooking process).