loof751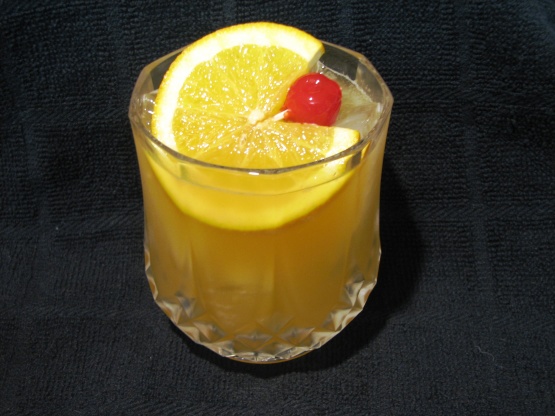 YUMMY, alcoholic, does it get better?

This was really a delicious drink. The amaretto really adds a nice touch, and the sweet & sour mix rounds out the total flavor boost for this cocktail. I will definitely be making this often. Thanks for sharing your recipe, Vallie. Made for Spring 2010 Pick-A-Chef.
4

oranges, juice of, , but it's not the same (, but it's not the same)
Amaretto, equal to the oz of the orange juice (after strained)
prepared sweet-and-sour mix, to equal the amt of the oj too

1

ounce Bacardi light rum
ice
Garnish with a bright red cherry and an orange rind.
juice your oranges.
strain your oranges.
put juice into measuring thingie (ya know, with the oz's on the side, lol).
pour in amaretto (same amt as oj).
pour in sweet and sour mix (same amt as oj, too).
fill with ice, then add bacardi.
If you have a shaker, shake it up really good (with ice) and pour into'old fashioneds' glasses (I don't mean yo gramma's glasses, I mean lil glass tumblers, short and stout).
If you don't, use a mixer or stir stick and mix it up real well.
Garnish.
Quick Tip: ALWAYS fill glasses to the top with ice before pouring in drink.