Valentines Day Tomato Basil Soup
Rita1652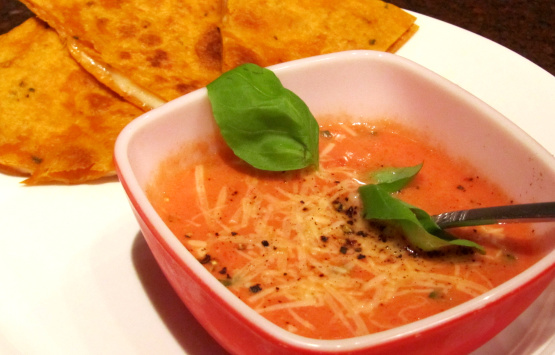 I make this full fat version of tomato basil soup for special occasions (ie this past Valentines Day). It is super easy to make, and the left overs feed me and my husband for lunch for the rest of the week! I found this recipe on all recipes, and the woman says that it is much better with the heavy cream and butter. It probably is some better, but I make a low fat version for our "every day tomato basil soup". You can use extra tomatoes and reserve them from the blending step so that you have some chunks of tomato in your soup.

Place tomatoes and juice in a stock pot. Cover and simmer for 30 minutes
Puree tomatoes, juice, and basil and return to stock pot (immersion blender works great here)
Put the pot over medium heat and stir in the cream and butter.
Season with salt and pepper to taste.
Serve with freshly grated parmesean cheese.