eabeler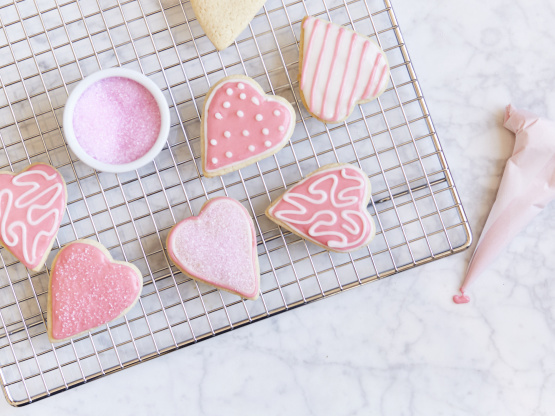 These cookies are better than Grandma's! It's important to use both shortening and butter in this recipe. The butter makes them soft on the inside, and the shortening makes them crisper on the outside. To frost them, I use equal parts of butter and cream cheese, 1 tablespoon of vanilla, and enough powdered sugar to pull it together.

I made these cookies last night and they were not good - the texture was too cakey and they weren't sweet. Also, the sugar is listed in the ingredients but then not listed in the directions for the recipes - I bake a lot so know when to add the sugar but this omission could mess someone up.
Mix flour, baking powder and salt together. Set aside until ready to use.
Add butter, shortening, cream cheese, and sugar in a large mixing bowl and cream together for 3 minutes.
Add the eggs, sour cream. Mix completely.
Add in the baking soda, salt, and vanilla. Mix well.
Add the flour mixture and blend together. If dough is too moist, add more flour to accomodate.
Chill dough for about 1 hour.
Roll out the dough, cut in desired shape.
Bake in a 375 degree oven for about 8 minutes or until edges are slightly browned.
Decorate as desired with frosting and sprinkles.