Sweet berry shakes. Made with or with the boose. Kijafa is Danish a cherry wine.
Directions
Blend it all until the shake is thick and creamy.
Serve the milk shake in a tall glass ropped with whipped cream serve with some straws.
Most Helpful
This is utterly divine!! So creamy and delicious; also love how easy it is to make and that it makes the perfect amount to share with your SO!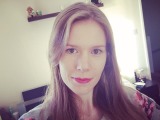 This is so yummy! The kiafa give it a nice darker flavor than a regular strawberry milk shake, it makes me want to try this with cherry vanilla icecream! I used HaggenDaz vanilla with about a half cup of frozen strawberries and half a cup of milk and about 1 1/2 oz of Kiafa; the strawberry jam really gave it a nice boost of flavor and because I added the unsweetened strawberries to the ice cream, this was lightly sweet - not cloying like shakes can be. Thanks Rita for a delicious treat. Made for Zaar Stars tag.
Delicious yes! I used Nestle strawberry shortcake ice cream which is vanilla ice cream with strawberry ribbons throughout like strawberry jam. I added 2 large fresh strawberries as well and used the lesser amount of rice milk! (It was still pretty thin.) On top I added whipped cream from a spray can. No alcohol added in ours. A make again.