Prep 10 mins
Cook 15 mins
Easy Pillsbury® Ready To Bake!™ cookies make these adorable valentines-on-a-stick simply delicious!
510.29 g package refrigerated sugar cookie dough
20 flat wooden popsicle sticks
295.73 ml ready-to-spread creamy vanilla frosting (from 1-lb container)
assorted small decorative candies, if desired
10 yards red curling ribbon
Directions
Heat oven to 350°F On ungreased cookie sheets, place cookie dough pieces 2 inches apart. Into side of each piece of dough, insert wooden stick 1 inch, overlapping wooden sticks as necessary.
Bake 12 to 16 minutes or until edges are light golden brown. Cool 2 minutes; remove from cookie sheets. Cool completely, about 10 minutes.
Spread frosting on one side of each cookie; decorate with candies. Tie 18 inches of red ribbon into bow around each stick next to cookie.
Most Helpful
These were so fun!! I don't have kids yet, but this brought out my inner child - I was so excited to go mad with different sprinkles and decorations! I decided to cut the cookies into heart shapes too, since they're called Valentine Cookie Pops - so cute and fun - my boyfriend loves them!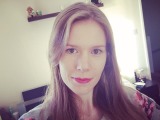 I made these yesterday for my kids for Valentine's Day. I used Recipe #218589 in place of canned frosting with great results! I decorated them with red and sprinkles, tied them in pink wrap and tied bows around the ends. So cute and another fun recipe to make for the kids!
This is as much a review on the recipe as the project. It was so much fun to make these and I can't wait to share them with friends and family tomorrow. Instead of store bought cookie dough, my lollipops were made with Recipe #156102. (This is a very easy dough to work with and ideal for this activity especially if you are enlisting children.) After much searching, I gave up on finding popsicle sticks and used lollipop sticks instead. One disadvantage of that was the sticks are a bit thicker and it often meant securing the backs with little patches of dough. But the fun here is in the decorating. Used a vanilla frosting and mixed up a bunch of colors; whipped out red, pink, and crystal sprinkles; some heart shaped cookie cutters, and even broke out a couple of decorating tips. Too too much fun. It was like being a kid again and by the end of my decorating session there were bits of frosting and sprinkles all over. My mom would be so proud. Thanks for helping me find my inner (cooking) child.