BarbryT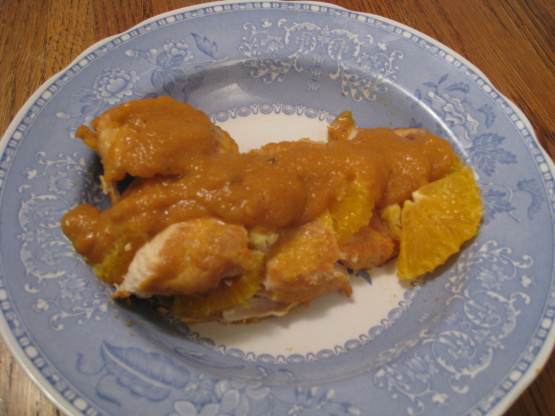 The Valencia region is home to the citrus-growing industry of Spain, & the Navel, Clementine & Mandarin orange varieties are among the best-known & most successful of its exports. Not surprisingly, CULINARIA SPAIN included this low-cal, low-fat, easy to fix & elegant chicken recipe to feature the cuisine of Valencia, Spain. *Enjoy*

I made 2 servings of this fab recipe last night and it was a real hit. Not only is it delicious and succulent but it's also lovely. I did use the Grand Marnier and even the uber picky DH loved it! I count this as totally company and holiday worthy in all respects. Used black rice with golden raisins added to it and steamed broccoli tops as sides. Talk about drama on a plate! Keeper.
salt and pepper

4

tablespoons olive oil

2

carrots (sml dice)

1

onion (sml dice)

1

teaspoon sugar
1⁄2 cup white wine

1

orange (rind & pith removed, sliced thinly in 8 slices & those slices halved)

2

tablespoons Grand Marnier (more or less per taste pref as opt add to Step 3 of prep)
Season chicken breasts w/salt & pepper. Heat olive oil in a deep pan, fry chicken breasts on both sides till golden brown, remove from pan & set aside.
Brown the diced carrot & onion in the oil & meat juices. Add orange & lime juice, sugar & white wine. Reduce sauce slightly to intensify the flavors.
Transfer mixture to a blender, puree & season w/salt & pepper to taste (I would use my immersion blender for this step).
Return puree mixture to pan, place chicken breasts in the sauce w/any juice accumulated while set aside & gently simmer for 10 min (covered). Serve immediately as per the following note.
TO SERVE: Plate ea chicken breast. Make 4 diagonally angled cuts from side-to-side to create 5 slightly fanned medallions, but do not cut all the way through the breast. Place a halved orange slice in ea of the slits. Stir puree sauce, ladle a bit over the length of ea breast & the rest equally along both sides of the chicken breast.