awalde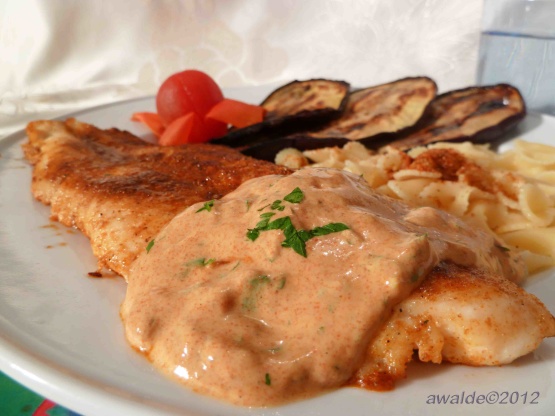 Cardamom -- just a little bit of it is the right amount -- is the key flavor in this quick, easy fish rub, which can either be used as a rub for grilling or broiling, or as an undercoat for breading. It suits our group, which is a very busy bunch and needs to keep it simple yet wants an elegant and aromatic result. We used it on some thin sole filets, but it would suit any slab of plain white fish such as flounder or tilapia. The mayo-based dipping sauce resembles one served with fries in some parts of Bavaria, and works well with either the grilled or breaded fish.

Top Review by awalde
Delicious and tasty fish!
I used tilapia fillets and prepared the rub as described. For the sauce I used fresh parsley why this is what I have on hand.
I'm glad I tried this recipe as this made a great change for us.
I love cardamom and this is very important in this recipe.
Thanks a lot for posting this recipe!
2

teaspoons paprika

1

teaspoon celery salt

1

teaspoon ground coriander
1⁄2 teaspoon salt
1⁄2 teaspoon black pepper, ground
1⁄8 teaspoon cardamom (this must be included, do not leave out)

1

lb fish fillet (sole or flounder)

Breading (optional)

1

cup unseasoned breadcrumbs

1

egg, beaten

Dipping Sauce

1⁄4 cup mayonnaise

2

tablespoons paprika, ground

1

tablespoon parsley, flakes
Blend all ingredients.
If grilling or broiling, rub the fish with olive oil or butter. Sprinkle on the rub and cook as usual.
For breading:.
Spread the rub and unseasoned bread crumbs on separate plates.
Rinse and pat dry the fish.
Press in rub on both sides.
Dredge the fish through beaten egg, gently.
Roll in bread crumbs.
Pan fry in 1/4 in of oil in skillet over medium heat.
To Make Sauce:
Mix all ingredients.
Let stand 10 minutes for dried parsley to reconstitute. Serve cold at the table.