Vafler Med Sitronsmak - Norway - Lemon Waffles
diner524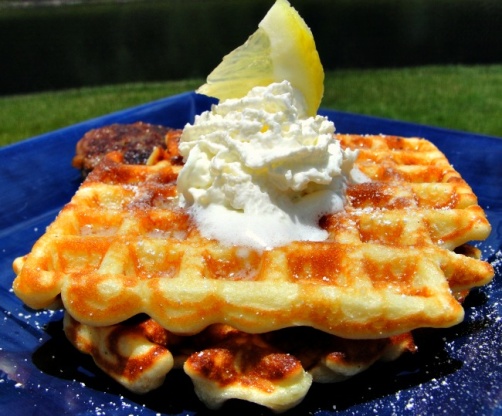 This recipe has been posted for play in ZWT9 - Scandinavia. This recipe is from a website called Sons of Norway. This is an authentic Norwegian recipe posted by Astrid Karlsen Scott. During July, the traditional Norwegian Holiday season, German and Nordic-style cakes and pastries, such as sponge cakes and Danish pastry (known as "wienerbrød", literal translation: "Viennese bread") share the table with a variety of home made cakes, waffles and cookies.
What a wonderful waffle. I love lemon flavor so this was right up my alley!! I made 1/4 of the recipe, using just 1 egg, and it worked out perfectly for one serving. It has a nice subtle lemon flavor. I added some butter and sprinkled on some powdered sugar for a great morning treat. Thanks for sharing the recipe BK. Made for PRMR tag game.
Beat eggs and sugar until thick and fluffy, about 10 minutes.
Alternately fold in the flour, which has been sifted with lemon peel, and sour cream.
Stir in the butter and lemon juiceand set batter aside to rest 10-15 minutes.
Heat heart-shaped waffle iron. It is hot enough when drops of water sprinkled on its surface sputter.
Pour approximately 3/4 cup batter into the center of the iron.
Lower cover and bake until the steaming stops, 30-60 seconds on each side.
Do not peek during baking period.
Makes 6 waffles.