V8 Velvety Tomato-Cheddar Soup
Coasty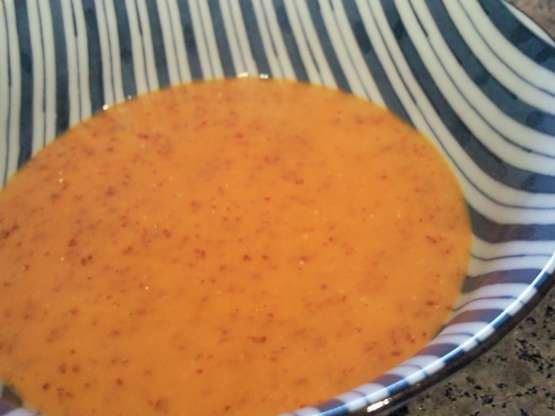 Recipe from First Magazine 11/3/08. Feel free to substitute veggie broth for the chicken broth to make this a great vegetarian recipe!

After adding Tabasco smoked chipotle, fresh chives from the garden and a little bit of salt, the flavors popped out. The cheese amount was cut in half. Used your Recipe #337449 recipe for the tomato juice with several vegetables from our CS box. Added fresh cilantro for garnish. Reviewed for Veg Tag/March.
In a saucepot, melt the butter then saute' brown rice, onions and carrots over medium heat for 5 minutes.
Add broth and bring to a boil.
Reduce heat and simmer 35 minutes or until rice is tender.
In a blender, puree mixture for 2 minutes and then return it to the saucepot.
Add the juice and cook 10 minutes.
Stir in the half and half and cheese.
When cheese is melted, serve up the soup.
Garnish with kettle corn and some fresh chives.