V8 Escarole and White Bean Soup
Prose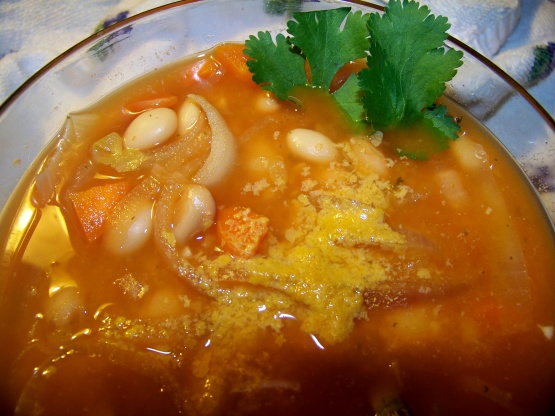 Recipe from First Magazine 11/3/08. This recipe can easily be made vegetarian by substituting the chicken bouillon for a veggie version and then could be vegan by eliminating the cheese!

Taste like Campbell s soup spiffed up with some Progresso vegetable soup, it's good and you can feed a lot with it. I think a beef bone base or broth might improve this. I threw in a bag of frozen mixed veggies. I'm not a soup person but I'd eat this as a lunch with some bread or with a grilled cheese.
In a large saucepot, add 1st eight items and simmer on medium-low for 20 minutes.
Add escarole and cool 3 minutes, or until wilted.
Stir in cheese and serve.
Garnish with fresh parsley and/or additional Parmesan cheese.