Parsley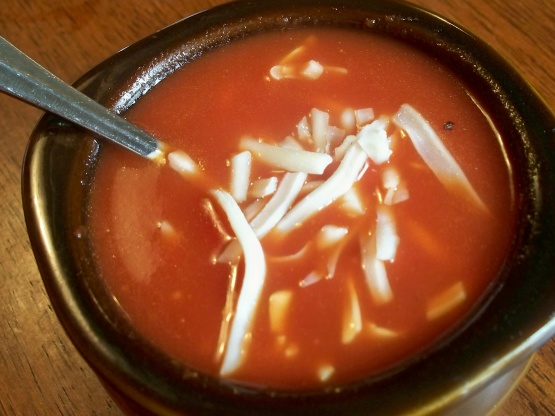 Gives you a warm pick me up in 5 minutes, for lunch or dinners. I will give you the amount per person, and you can chose what sort of changes you want to make. Obviously larger amounts do in a saucepan lol. This is what I do for lunch in a hurry. Satisfying, easy and can be dressed up in many ways. This is just the base which is great on its own..

Easy peasy! I love it! I've never been a fan of V8 but had some on hand for a 'tomato tea' I'd been drinking while sick. I wanted to try something a little different to finish off the bottle I had open and this was perfect. I did pick a little basil from my garden to chop and add. I had pretzel slim crackers on the side...I can't wait to try again with some of the recommendations noted! Thanks!
Cube the mozzarella.
Heat your V8 in a cup in the microwave to boiling.
Drop in cubes of mozzarella and stir until they start to melt.
Serve immediately.
Sometimes I grate another 2 ounces on top so I can put the spoon down the lake of mozzarella, get some soup and a little more cheese -- .