Calee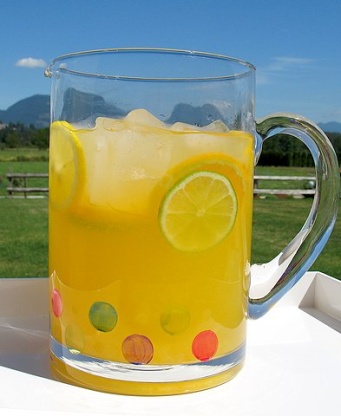 A good friend on zaar thought it would be a great twist on my Vodka Water with Red Ruby Grapefruit Vodka instead of Mandarin.... then add simple syrup and some citrus..... Turns out It's delicious. Thanks "B" for the great idea ;) "Throw some slices of fruit in it add some ice, shake your booty and your good to go!"

Top Review by Calee
I'm so thrilled to be the first to rate this recipe! I love absolut ruby red grapefruit vodka, so I knew I was going to love this drink. Love the orange, lime, lemon combination. Be careful drinking these they tend to sneak up on you. I used a simiple syrup ratio of one cup sugar, one cup water and added one cup of simple syrup to the pitcher. Made this at my sisters appy night and was a *HUGE* hit. Thanks for sharing this recipe, one I know I will be making again.
Vodka Water

1 3⁄4 cups absolut ruby red grapefruit vodka

2

cups water
1 1⁄2 cups ice

Simple Syrup

2

cups water

1

cup sugar
Simple Syrup:.
Bring water to a boil in a small saucepan.
Pour in sugar. Stir until sugar is completely dissolved.
Remove saucepan from heat and allow contents to cool.
Refrigerate in a sealed container until ready for use.
Vodka Water:.
Place ice cubes in an empty pitcher.
squeeze juice of the orange, lime and lemon over the ice. (I use my juicer - this gives you more citrus juice) cut peel into quarters and throw in the citrus -- It just gets better.
Add Ruby Red Grapefruit Vodka (1/3 of the bottle is how I do it).
Fill with Water, add 1/2 cup to 1 cup simple syrup (depending on sweet desire) and stir.
Pour into highball glasses with or without ice.