Urmila's Baked Potato and Eggplant Curry

This is a slightly adapted version of a recipe from the mom of one my friends. She is from the state of Gujarat in India. If you have or can find dhana zeeru, you can use that in place of the ground cumin and coriander.
Directions
Preheat oven to 400 degrees F.
Mix together first 9 ingredients (from garlic to lemon juice).
Take out 2 tablespoons of this mixture, add to tomatoes, and set aside.
Trim the top off the eggplant, slice lengthwise, and make fairly deep cross-hatch slices into each half.
Spread spice mixture onto eggplant and rub over potatoes to coat.
Placed eggplant and potatoes in greased baking pan, cover, and bake for 45 minutes.
Add tomato spice mixture to the dish and mix gently. Bake for another 15 minutes, or until potatoes and eggplant are soft.
Top with cilantro and serve.
Reviews
Most Helpful
This was really tasty and so easy to make. I loved the way that once you'd put it in the oven you could forget about it for 45 minutes. I only had half an eggplant so I added some carrots as well. Just before I started making it I realied that I didn't have any ground peanuts or cashews but it tasted great withouth them. I served this over rice.
Wow, really fantastic vegetarian entree! Almost no changes to report, except I used fire roasted crushed tomatoes and, because I ran out of room in the dish, left out one of the potatoes. For some reason, at the time I felt I should add 10 minutes to the total baking time, so I did, but found that it was not necessary. The two of us ate this in one sitting, no problem at all! At first my BF asked me why I gave him so much, then he polished the whole thing off and said he guessed I didn't give him too much after all (hehe)! The lemony taste was so fresh and intense. Offset the curry taste. A keeper! (P.S. don't know what dhana zeeru is so I used cumin and coriander)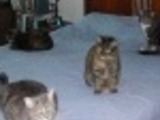 Wow! This is really tasty and quite easy to make as well. The only changes I made were to use some tahini instead of nuts (which I didn't have) and a bit of curry powder, cinnamon and Chinese five-spice powder (!) as a rough substitution for garam masala, and chopped instead of crushed tomatoes. I am eating it right now, with brown rice. Make sure you serve it very hot, almost straight from the oven.