Tanya H.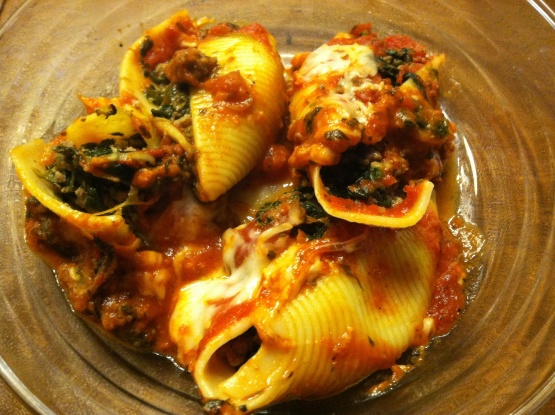 You could substitute Italian sausage for the ground beef. Recipe is from Barilla.

Delicious and easy to prepare! I made a few small changes to suit our taste preferences, mostly inspired by this recipe's inclusion of nutmeg. I doubled the garlic (I tend to always do that), added a generous pinch of cumin, a teaspoon of lemon juice and another 1/2 teaspoon of lemon zest. As always, Lainey's instructions were wonderfully clear. I was in the mood for a mushroom sauce rather than a tomato sauce so made a double batch of *Pamela*'s delicious Mushroom Sauce for Meatballs Recipe #121093. We thoroughly enjoyed this Upside Down Ravioli with Annacia's Broccoli With Lemon Almond Butter #200623. Great blend of flavours. And, because there were only two eating, I had several serves to put in the freezer. Thanks for sharing this wonderful recipe, Lainey! I look forward to eating this again, and to making it again. Next time I'm thinking I'll add some pine nuts or slivered almonds.
Preheat oven to 350 degrees.
Cook jumbo shells according to package directions, reserving 1/2 cup pasta water.
While pasta is cooking, cook ground beef in large skillet over medium-high heat 4 minutes or until no longer pink, stirring occasionally.
Drain grease.
Stir in oil, spinach, onion and garlic; add some of the reserved pasta water until blended, adding more water as needed; continue cooking 10 minutes, stirring occasionally.
Remove from heat; add seasonings and blend well.
Let mixture cool.
Stir in egg and Parmesan cheese.
Pour 1 cup of tomato and basil sauce into 13x9-inch baking dish.
Fill shells with meat mixture; place in dish.
Pour remaining sauce over shells; cover with foil.
Bake for 30 minutes or until thoroughly heated.