Prep 20 mins
Cook 30 mins

This sweet and tasty dessert came from a cookbook put out by Dorothy Mengering, mother of Late Night talk show host David Letterman.
Directions
In a medium saucepan, bring 1 1/2 cups water to a boil. Add 1 tablespoon butter and 1 1/2 cups brown sugar and stir until sugar is dissolved. Set aside.
Put the dates in a small bowl. Top with 1 cup boiling water and set aside.
In another small bowl blend 1/2 cup brown sugar, 2 tablespoons butter and egg. Beat well.
In another bowl, sift together flour, baking soda, baking powder, salt, cinnamon, and nutmeg. Add to egg/sugar mixture alternately with cooled date mixture.
Pour batter into an 8x12x2 inch baking dish. Pour brown sugar sauce evenly over batter.
Bake at 350 degrees for 30 minutes. Cut into squares and invert to serve. Top each serving with whipped cream.
Reviews
Most Helpful
I also cut down on the sugar and realised when it was too late to go to the supermarket that I didn't have enough brown sugar for the sauce so I substituted white sugar. If I was to make this one again, I would use better quality dates, make sure I had enough brown sugar and cut the nutmeg by half as I found it quite overwhelming. Made for ZWT 6 Family Picks (Voracious Vagabonds)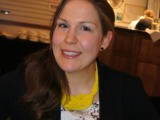 I usually don't like things overly sweet, so I took the advice of other reviewers and cut the sugar back...1 cup in the sauce and 1/4 cup in the pudding. That said, I have never done much cooking with dates and we enjoyed this. I did freeze the leftovers, I hope it will be ok. Thanks for posting, loof. Made for ZWT 6, Zingo.

Fantastic date pudding! I did as suggested by the other posters and decreased the sugar, somewhat. This will be my give-away dessert for a while. Thnx for sharing your recipe, loof! Made for the Voracious Vagabonds of ZWT 6.