Upside-Down Cranberry Crunch
bernrome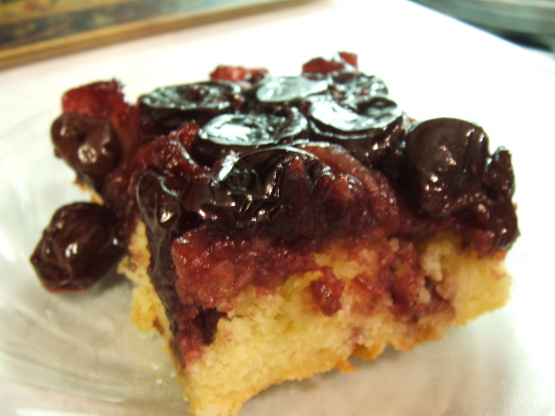 This is so good, and so easy to make, very colourful for a holiday season dessert. You can substitute raspberries, blueberries or strawberries if desired, any one will still be great, I usually make two of these, if I have more than four people over for dinner...a wonderful dessert.
Set oven to 325°F.
Grease a 8-in square baking pan.
Place cranberries in prepared pan.
Sprinkle with 3/4 cup sugar and pecans.
In a mixing bowl, beat the eggs, extract, butter, flour and remaining sugar until smooth.
Spread the mixture over the cranberry mixture.
Bake for 1 hour, or until cake test done.
Run a knife around the edges of dish; immediately invert onto a serving plate.
Cut into serving-size pieces.
Serve with whipped cream or ice cream if desired.