Upside Down Chocolate Chip Cake
Calee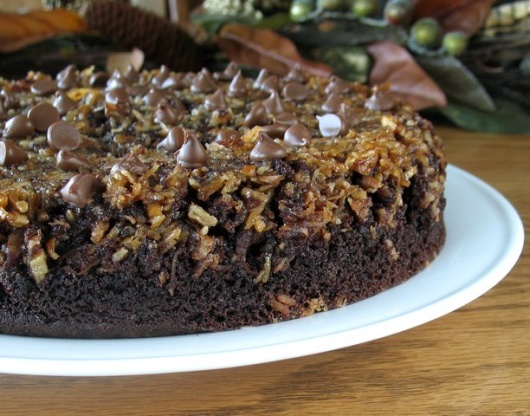 A nice moist chocolate cake with a different kind of "icing"

I really liked this recipe and really enjoyed the moistness and texture. I made two cakes one right after the other and realized that no matter how much "Pam" or butter I used in the pan the coconut and nuts stuck to the bottom. Both times I had the same issue. What should I try to keep from having this problem again?
Heat oven to 350°F.
Spray 9 inch round cake pan with non stick cooking spray (Pam).
Add butter(for the topping) in the cake pan and place in preheated oven until butter has melted (1 minute).
Add remaining topping ingredients to pan and set aside. Make sure it is evenly spread over the bottom of the pan.
In bowl sift flour, salt baking powder, baking soda, cocoa powder and sugar.
In separate bowl whisk together vegetable oil, milk, egg and vanilla.
Add to dry ingredients mix well.
Add hot coffee mix well.
Pour over nut mixture in cake pan.
Bake 25-30 minutes or until cake tester comes out clean.
Let cool in pan for 5 minutes.
Invert on to cake plate add milk chocolate chips, while cake is still warm so they melt a bit.