neese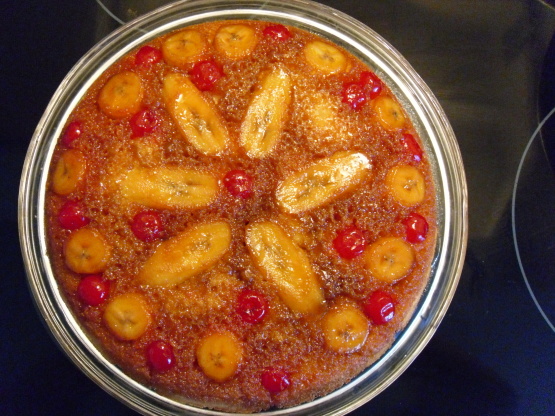 A nice variation of the infamous "Pineapple Upside Down Cake"!
Preheat oven to 350°F.
Whisk together dry ingredients in small bowl.
Combine sour cream and vanilla and set aside.
Cream butter with sugar in large bowl until fluffy. Beat in eggs.
In large oven proof pan, melt 1/3 cup of butter with brown sugar over medium-low heat.
Cut bananas in slices, varying the style and size or your slices based on your desired pattern. Place them and the cherries in a design (or however you wish!). Leave pan on low heat while preparing rest of batter.
Meanwhile, fold dry ingredients and sour cream mixture alternately into wet ingredients.
Pour batter carefully onto banana slices and bake for 20-30 minutes or until toothpick inserted comes out dry.
Let sit for 5 minutes, then invert onto large tray.