Upside-Down Apricot Caramel Crunch Cake
flower7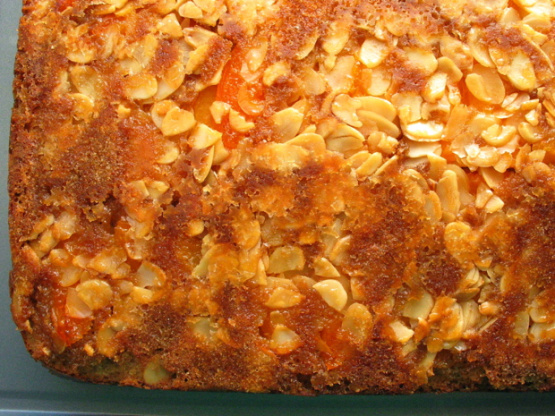 From BHG, made for a co-worker's birthday and enjoyed by all with rave reviews! I made two and the first one, I forgot the oats (oops!) but it was still good :) I couldn't get my hands on apricot nectar so used peach. Served with vanilla ice cream (caramel would also be good) and caramel sauce over the cake *and* ice cream.

We really enjoyed your upside down cake ~ Easy to make & totally delicious! I pretty much followed your recipe, but did use a very generous cup of the toasted sliced almonds! And now you've got me interested in doing it as a peach cake, with sliced peaches & peach nectar! Definitely a keeper of a recipe, so thanks for sharing it! [Made & reviewed in Zaar Chef Alphabet Soup recipe tag]
1

(15 -17 ounce) canunpeeled apricot halves in juice, undrained

1

(5 1/2 ounce) can apricot nectar or 1 (5 1/2 ounce) can peach nectar
1⁄2 cup brown sugar, packed
3⁄4-1 cup sliced almonds, toasted

1

(18 1/4 ounce) package spice cake mix (I used Betty Crocker)

3

eggs (or as boxed mix directs)
1⁄3 cup vegetable oil (or as boxed mix directs)
1⁄2 cup quick-cooking rolled oats
3⁄4 cup caramel ice cream topping
Preheat oven to 350°F.
Line a 13x9 inch baking pan with foil and grease foil. Set aside.
Drain apricot halves, reserving juice in a 2-cup glass measuring cup. Add enough apricot nectar to the reserved juice to equal the amount of water called for on the boxed mix (probably around 1 1/4 cups - if you don't have enough, add water to make up the difference). Set liquid aside.
Cut apricot halves into 1/2-inch-thick slices; set aside.
Sprinkle brown sugar evenly over bottom of the prepared baking pan. Sprinkle almonds over brown sugar. Arrange apricot slices on top of almonds; set aside.
Prepare cake mix according to package directions, using the eggs and oil as instructed on the box, except add 1/2 cup oats into dry cake mix and substitute apricot juice mixture for the water called for in directions.
Pour batter evenly over apricot slices and almonds in pan, being careful not to disturb apricots and almonds.
Bake for 30 to 40 minutes or until a toothpick inserted near the center comes out clean.
Cool in pan on a wire rack for 20 minutes. Carefully invert onto a large serving platter; remove foil.
Drizzle warm cake with caramel ice cream topping. If desired, top each serving with sweetened whipped cream or ice cream.