Upside Down Apple Cinnamon Muffins
Boomette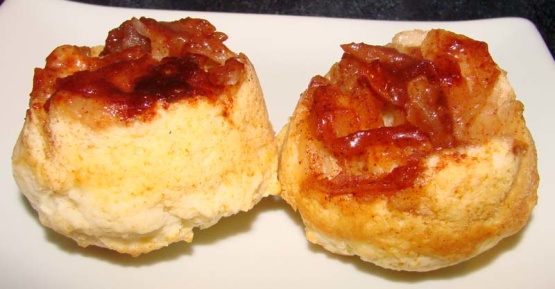 For the Make It Healthier tag game, I lightened up MsSally's"Buttery Cinnamon Muffins, #277875", by using low fat yogurt, skim milk, eliminating the vegetable shortening, and adding apples. This would be good with peaches or apricots, too.
Yummo, Ihalved the cinnamon though as we dont like it too much... a littke s fine though. I sliced the apples so they looked extra pretty, and finely diced the left over apple apple and added it to the second half of the muffin mixture. They turned out great :)
Preheat oven to 375º.
Generously spray 12 muffin tins.
Mix together the 4 tablespoons of sugar and 1 teaspoon of cinnamon; sprinkle less than a teaspoon of this mixture into each tin.
Reserve rest for layering in the batter.
Stir together apple and honey.
Spoon about 2 tablespoons of the apple mixture into each muffin cup.
In a medium size bowl, lightly spoon flour into measuring cups, and level with a knife.
Combine flour and the next 3 ingredients (flour through salt) in this bowl, stirring well with a whisk.
Make a well in center of flour mixture.
In another medium size bowl, combine the yogurt, butter, milk, and egg in a bowl, stirring well with a whisk.
Add yogurt mixture to flour mixture, stirring just until moist.
It will be thick.
Spoon half the batter into each tin, sprinkle on some reserved cinnamon sugar, and top with remaining batter.
Top with the reserved cinnamon sugar.
Bake at 375º for 20 minutes or until a wooden pick inserted in center comes out clean.
Cool in the pan for 15 minutes.
Flip the pan onto a wire rack WITHOUT removing the pan immediately.
Even if the apples do stay in the pan, simply spoon them onto the top of the muffins.