teresas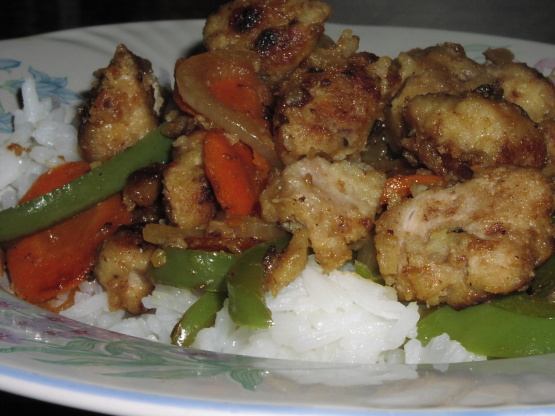 Any upland game bird (such as grouse or quail) may be substituted for the pheasant. Adapted from Dressing and Cooking Wild Game. Serve over rice.

This was very yummy...the pheasant was nice and tender...I used just the breast meat...it did need salt...but that may be just a personal preference...there isn't a sauce...but the overall dish went very well with rice...I did cut the recipe in half for the two of us...this is a keeper...thanks for posting it...made it for "What's on the Menu??? tag game...=)
Place baking mix and pepper in a large plastic zipper bag, and shake well.
Combine pheasant and eggs in a large bowl and stir well to coat.
Remove pheasant with a slotted spoon and place in bag with baking mix.
Shake well to coat.
Remove pheasant. Discard any remaining baking mix and eggs.
Heat 1 tablespoon oil in a large skillet or wok over medium-high heat.
Add carrots. Cook, stirring, 2 minutes.
Add green pepper and onion and cook, stirring, 1 minute.
Add water, cover, and steam for 3-4 minutes, or until vegetables are tender-crisp.
Remove vegetables and set aside.
Add remaining oil to pan and heat over medium-high heat.
Add pheasant and cook, stirring, until browned and no longer pink in center, about 10 minutes.
Combine chicken broth and teriyaki sauce.
Pour over meat in skillet.
Return vegetables to pan, and cook just until heated through.