Derf2440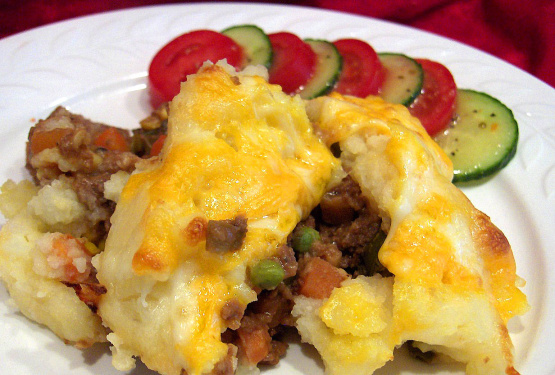 I found this recipe in a Kraft Food & Family magazine and adapted it slightly to fit our tastes. I decreased the amount of beef stock and added the W sauce to make it slightly richer and thicker. DBF ate 2/3 of the pan the first time I made this, so it is definitely a hit around here. For faster prep, use leftover mashers. You could probably also use potato flakes, but I don't like those so I haven't tried it that way. DBF likes to eat his pie with HP sauce; I like it the way it is.

Excellant shepard's pie, I had no sour cream in so I subed with low fat yogurt, worked out very well. Also used baker potatoes becuse that was what I had in; had a small piece of mozzarella cheese to use up so I mixed it in with the cheddar. very good comfort food dinner, thanks for posting, will be making it again.
In a large saucepan, cover potatoes and garlic with water. Bring to a boil on high heat. Reduce heat to low; simmer 20 minutes or until potatoes are very tender. Drain; return to saucepan with sour cream. Mash to desired consistency. Stir in 1/4 cup cheddar cheese.
Preheat oven to 375 degrees.
Brown meat in large non-stick skillet. Stir in flour; cook 1 minute. Add vegetables, broth, and ketchup; continue cooking 5 minutes.
Spoon meat mixture into 8-inch square baking dish. Cover with mashed potatoes.
Bake 18 minutes; sprinkle with remaining cheese.
Bake an additional 2 minutes or until heated through and cheese is melted.