Up Those Antioxidants With Blueberry Sauce
PaulaG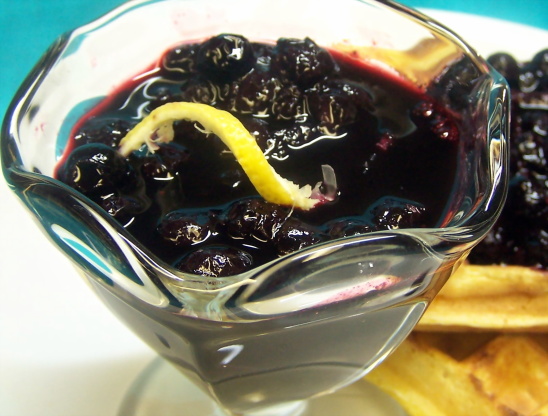 This is from a column written by the American Institute for Cancer Research published in the Daily Oklahoman. It sounds like a great use for frozen blueberries, and a way to get all of those healthy anti-oxidants!

This sauce is fantastic! I used Splenda so that that I could use it for Weight Watchers' Core plan. I plan to try it with some cheesecake pudding. I halved the recipe, thinking it would be too much for just me, but I definitely could have made the full amount! Thanks for the recipe! Made for Healthy Choices ABC.
Defrost the berries.
Put them in a deep pan and add the lemon juice.
Cook over medium heat until the berries are really juicy, about 5 minutes.
Add the lemon zest.
Turn up the heat to medium-high and boil until the berries are soft, about 5 minutes.
Add the sugar and bring to a boul over medium-high heat.
Pout it into a heat-proof container and cool it to room temp.
It should thicken as it cools.
Remove the lemon zest.
Cover it and refrigerate it.
It can keep for up to a week in the fridge.